"Is it worth it? Let me work it. I put my thing down, flip it and reverse it"
Using the easily recognizable words of Missy Elliott, I present to you, Rodan and Fields Reverse.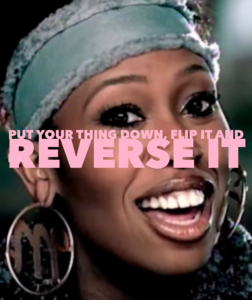 What it is:
Reverse is a 4 step multi-med therapy regimen from the makers of Proactiv. There are 2 versions:  Brightening and Lightening. It's the second regimen I've used and it's by far the best for clearing your skin of unwanted marks and dullness.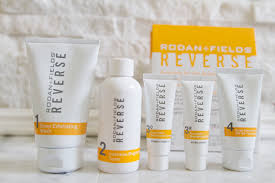 What REVERSE does:
It cleans the slate! Do you have dark spots, freckles or discoloration? This regimen will help with alllll of that! The brightening version brightens your skin, combats dullness and corrects discoloration while the lightening version lightens the appearance of dark spots, melasma and evens out your skin tone. All Rodan and Fields regimens have anti-aging properties too! Score! 🙌🏻
Step 1: Reverse Deep Exfoliating Wash – This wash is my fave. It smells clean and fresh. It gently exfoliates the skins top layer and gets it ready for steps 2-4.

Tip: After a full month of use, I noticed that I was using too much when I washed my face and I was running out of the wash quicker than everything else. To combat that, I just started using less (around a dime sized amount)! Remember that a little goes a long way!

Step 2: Reverse Toner – Depending on what version you get, the toner will either be the lightening or the brightening toner. The lightening toner has 2% Hydroquinone which is a skin lightening ingredient and the brightening toner has Salicylic acid which helps make your face glow. Both toners have Kojic acid, vitamins and licorice in them to help further brighten your skin tone!

Tip: Since Reverse Brightening has salicylic acid in it, it is a great regimen for those of you still having occasional breakouts (not severe) and are looking for an alternative to a full-on acne regimen like Unblemish. I will do a review of Unblemish in the future!

Step 3: Skin Treatment Lotion – This is the step that sets the brightening and the lightening versions apart. In brightening, you get the Dual Active Brightening Complex which has Vitamin C and Retinol to help brighten your skin and smooth lines on your face. With the lightening version, you will get the Skin Lightening Treatment instead. It has 2% hydroquinone. Hydroquinone targets excessive pigmentation and fades dark marks. This is my second favorite step! I love this stuff and it's the reason I don't wear as much makeup!
Step 4: Broad Spectrum SPF 50 –  This is the most important step and is used in the AM or before going out in the sun. It features SHIELD (trademarked by RF) which in short, keeps your skin safe from the suns damaging rays and helps prevent further damage from developing!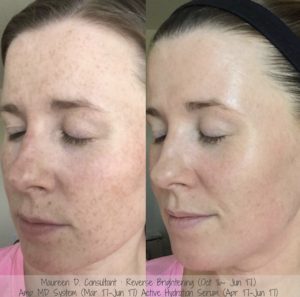 Why you should care:
If you are piling on makeup to cover uneven skin tone and dark spots, you are only placing a bandaid on top of the real issue! You could clean the slate with Reverse in order to wear less makeup later. If you think about it, makeup is DAMN expensive and if you are buying primer, foundation, powder and setting spray to cover those dark spots, you are spending a lot of moo-lah! Break the cycle and get to the real issue and save yourself money over time!
How much it costs:
For less than what it costs to get a single cup of coffee at Starbucks every single day for 90-120 days, you can have glowing beautiful skin!
Reverse retails for $190 plus tax and shipping (which comes out to be at ound $217.15)
OR
you can get 10% off and free shipping if you sign up as a preferred customer. The cost for a preferred customer is $171 plus tax (which is around $186.20). That's a huge savings!
Also, the regimen should last you 3-4 months and it's guaranteed to work. If you aren't happy with your results, you can return the product for a full refund within 60 days of purchasing!
How you can get it:
There are 2 ways. Message me on one of my socials or email me at [email protected] and I'll get you started. You can also go to annajean.myrandf.com/reverse and sign up as a preferred customer!
If you read all of this and you're thinking "this stuff is for me" then let's talk! You have nothing to lose but your dark spots and uneven skin tone and SUMMER is on it's way, girl! Just imagine your skin makeup free while you lay in the sun sipping a cocktail, not being worried 'bout nothin'! If it doesn't sound like the regimen for you, I recommend taking my Solution Tool to find out what would work best for YOU. It's fast, easy and will give you a personalized recommendation based on your individual needs.
I hope this review gave you a good idea of what Reverse is all about! I plan on peppering in a few reviews of different R+F products throughout the year along with other reviews of workouts, food and other things that interest me! Make sure to subscribe to my blog for updates and to follow me on Instagram (@balancing_in_sneakers) for other fun stuff related to working out, self-care and wellness!
Disclaimer: I am a Level II Rodan and Fields consultant. I have personally used REVERSE and I wouldn't continue to sell R+F if I didn't 100% believe in the company and the products.